Tejon Ranch officials reveal 16 retailers at Outlets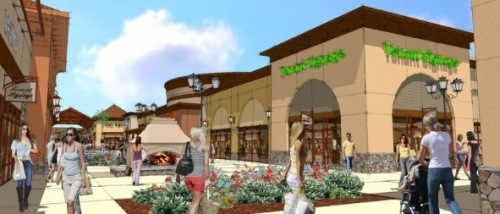 Tuesday, Dec 10 2013 05:17 PM
Tejon Ranch Company officials on Tuesday revealed 16 of the 70 retailers coming to The Outlets at Tejon Ranch, when the first phase of the 320,000-square-foot, $90 million shopping center opens Aug. 7.
The tenants, whom officials said had signed lease agreements with Tejon Ranch Company, are: Aeropostale, A'gaci, Auntie Anne's, Carlisle, Chico's, Coach, Hot Topic, Lids, O'Shoes, Perfumes 4U, Puma, Rack Room, Skechers, Tilly's, White House Black Market, and Wilsons.
"When we did our due diligence in the beginning, we wanted to make sure there was a market — if you built it, they would come," said Tejon Ranch Company senior vice president of real estate Joseph E. Drew, in remarks during the Greater Bakersfield Chamber of Commerce's lunch forum, "Bakersfield: The Next 5 Years."
By way of confirming the commercial potential for the Outlets, which will be on the east side of Interstate 5 south of the Highway 99 interchange, Drew referenced two Thanksgiving week incidents at Tejon Ranch Commerce Center on the west side of the interstate.
On Nov. 27, Drew said, all five bays at the Tesla Motors charging station were simultaneously full of power-hungry Teslas — a first. Then, from Nov. 28 through Dec. 1, the Commerce Center Starbucks was the chain's No. 1-selling store in the nation.
"It's evidence that the location where the outlet center is located has always been a very popular stop for folks, and we believe that the outlet center will now transition into a destination," said Barry Zoeller, Tejon Ranch spokesman, in an interview.
Starbucks officials could not confirm the store's performance. Tesla Motors officials did not respond to a request for comment.
All but two of the retailers announced — Auntie Anne's, a pretzel company, and Perfumes 4U — sell clothing or accessories.
More significantly, seven of the retailers, including Coach, Chico's, Aeropostale and Hot Topic have full-price stores in Bakersfield, about a half-hour away.
Anthony Olivieri, principal at Olivieri Commercial Group, which handles marketing and leasing at The Marketplace, said this is proof that retailers are loosening so-called "radius restrictions" mandating full-price stores stay far away their discount brethren.
"A lot of those rules, those unwritten codes, have been softened. Retailers realize, like the Gap and the Banana Republic concept — they manufacture product specifically for outlet malls," Olivieri said. "You get higher end brands at a discounted price-point and I think that's attractive to a lot of people."
When its second phase is completed, the shopping center will be 500,000 square feet. Zoeller said Tejon Ranch Company believes it will generate $400 in sales per square foot of retail space per month — or $128 million in sales per month.
BY THEO DOUGLAS
Californian staff writer
tdouglas(at)bakersfield(dotted)com